Standard Installation ( FREE ) :
Each UniFi package subscription comes with Standard Installation which comprises ( up to ) 15 meter Internal Fibre, 15 meter LAN / Phone Cable and 30 meter Raceway. This installation worth RM 200 and offered FREE to you!
Non-Standard Installation ( Optional Installation ) :
Optional Installation refers to activities or materials that are outside of UniFi Standard Installation scope. This covers ON Pole to FTB via Groud Surface Wiring, 3M surface Wiring and Over The Ceiling. You may deal directly with TM authorised contractors for Non-Standard activities or materials.
Standard Installation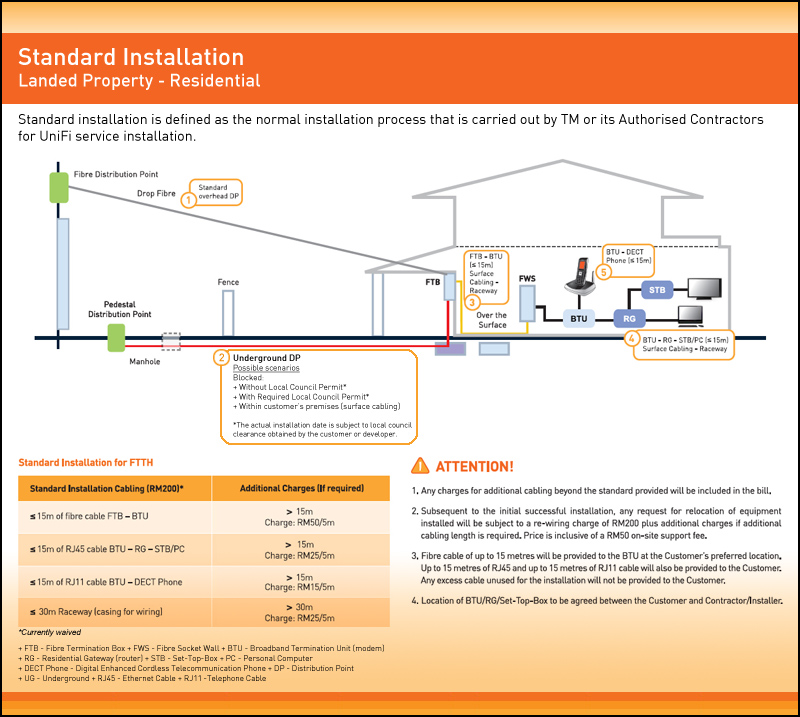 Non-Standard Installation
Home - Landed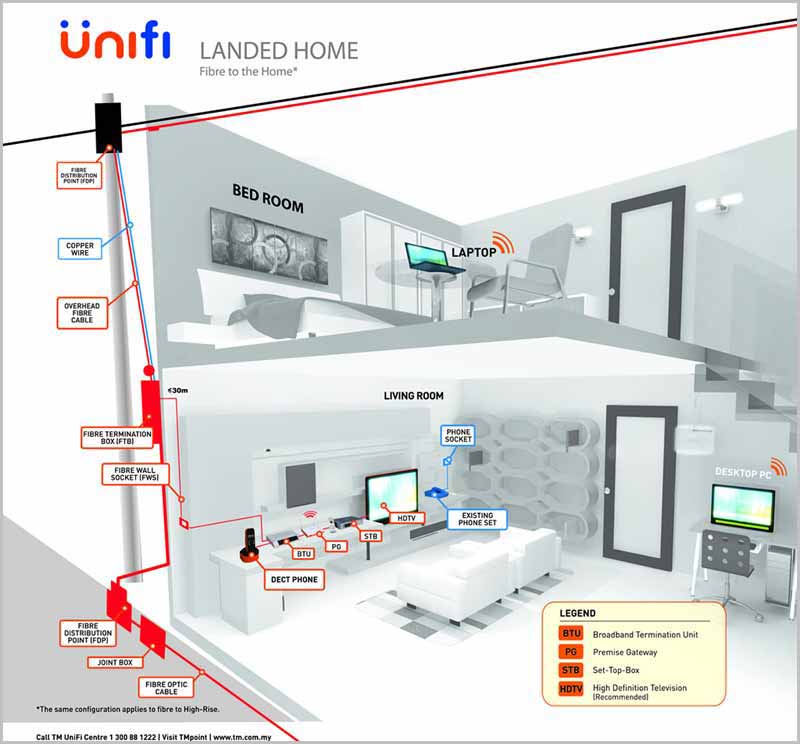 Home - High Rise ( 5 Storeys and above )
UniFi service installation is subjected to location service coverage availability as well as technical and civil testing requirements.
FREE standard installation worth RM 200 will be provided for every new subscription.
Installation appointments are subjected to earliest time slot availability.
Installation time:

Fibre installation in landed properties (FTTH): 4 – 8 hours.
High rise buildings utilising Very High Speed Digital Subscriber Line (VDSL): 2 – 4 hours.

It is advised that customers inform TM prior to the service installation appointment if any renovation / construction is being done to the home. Customers will be required to call TM back once the work is completed, for the UniFi installation appointment.
TM will not be responsible for providing concealed internal wiring during UniFi installation. However, customers can arrange for their own contractors or choose from TM's authorised list of contractors for the work intended. All related charges will be borne by customers.
During UniFi installation, TM will not be responsible for any damages resulting from work done by customers using their own or TM's authorised contractors.
Customer or an authorized representative must be available for the duration of the UniFi service installation so as to understand and sign-off on the installation process.
Charges for Change of Appointment:

Any installation appointment that is cancelled or postponed less than 24 hours of the scheduled appointment will be subject to a RM200 penalty fee. The charge will be presented in the customer's first bill, only upon the full activation of the UniFi service.
Re-appointment will be subject to time slot availability and the RM200 installation fee will be imposed.

All UniFi equipment provided will be subjected to a one (1) year warranty period. The customer is however, required to assist in providing the TV and at least a four-socket extension cord to complete the installation.
Only a single computer will be installed with the wired / wireless broadband connectivity subject to the customer's agreement.
Only 1 TV set will be installed with wired broadband connection
Only TM provided phone will be installed for Phone service.
High-rise buildings:
TM will require access to the MDF / SDF room, which is normally managed by the Building Management / Maintenance. Therefore, the customer must make arrangements with the Building Management / Maintenance Office to ensure someone is available to grant access for the TM UniFi Installer to the MDF / SDF room for the duration of the installation including weekends and public holidays. Without access to the MDF / SDF room, installation cannot be performed and TM would have to re-visit the premise which might incur unnecessary cost to the customer.
All application MUST be install within 21 Days from Registration date *Subject to network/technical TM failure to install.
If customer unreachable during first TM visit, application will be cancelled on the 8th day from 1st appointment date. Please contact 1300881221 option 3 within said period to avoid order cancellation.
For Installation at Customer's premise located within a high-rise building, TM will not be responsible for any damages due to building's internal wiring by building owner. Customer shall indemnify TM against a claim by any party including building owner or management corporation for any damage not due to the fault or negligence of TM. For any request by Customer for any re-wiring or re-installation, TM shall have the right to charge customer.
If Order return due to Building Management issue, Customer is responsible to fix issue within 21 day from 1st return date. Please contact 1300881221 option 3 within said period to avoid order cancellation.
UniFi Service package is available only for residential or home-based individual customer who must be at least 18 years of age as of the date of application and has the capacity to enter into a legally binding contract.